HAWAI'I TOURISM INDUSTRY SUPPORTING PACIFIC RIM CUP 2019
January 15, 2019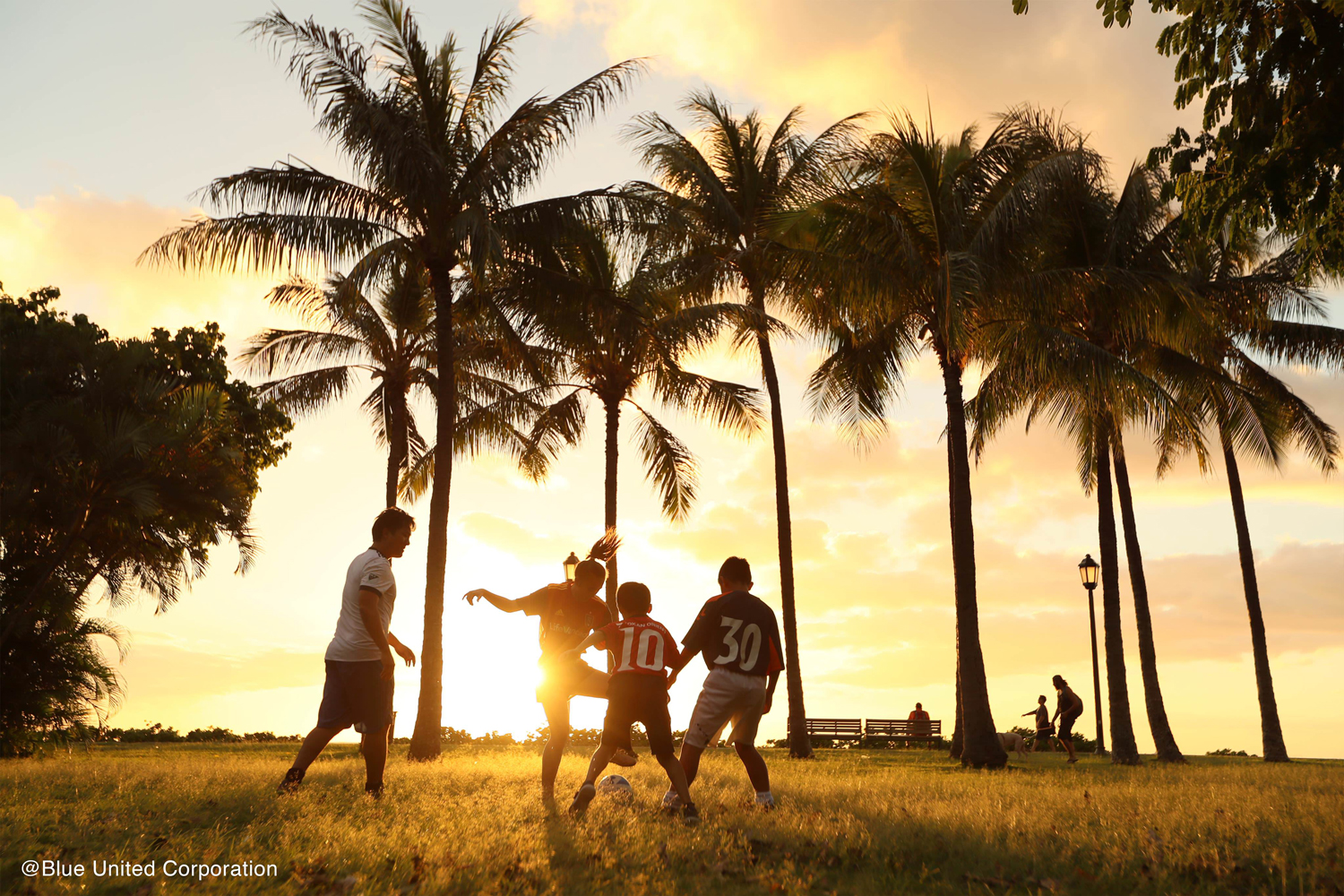 HONOLULU – Pacific Rim Cup 2019 is proud to announce that Hawai'i's tourism industry has renewed its support of the two-day tournament in February, including the Keiki Soccer Clinic for Hawai'i's youths.
Thousands of people from Hawai'i and abroad attended the inaugural Pacific Rim Cup last year, hosted by Blue United Corporation and presented by Under Armour. Professional teams from U.S., Japan and Canada will go head-to-head for the championship title on Feb. 8 and 10 at Aloha Stadium.
Prior to the tournament, hundreds of keiki soccer players and enthusiasts will get to play alongside world-class players from participating teams at the tournament's Keiki Soccer Clinic on Feb. 7. Additionally, Pacific Rim Cup will host the first ever Hawai'i All-Star Game on Feb. 10 featuring local players from Oahu's Major Island Soccer Organization (MISO) taking on a U-18 selection from Fukushima, Japan.
"We are so grateful for the generous support from the state's tourism industry to help us position Hawai'i as the premier sports destination," said Takehiko Nakamura, President of Blue United Corporation. "The continued support helps us enliven our mission and vision to bring the community together to enjoy world-class soccer, and to also inspire and mentor local youth with the help from our participating teams and partners."
Tickets are on sale now for Pacific Rim Cup 2019 and can be purchased online through www.pacificrimcup.com, at www.Ticketmaster.com, at the Aloha Stadium Box Office or by calling Ticketmaster at 1-800-745-3000. Tickets are $20 per matchday, with Youth (Ages 12 and under), Military and Seniors (Ages 60 and over) tickets available for $15 per day. A special limited time ticket offer for both days combined is available for $30.
PACIFIC RIM CUP 2019 SCHEDULE
FRIDAY,FEB.8,2019
5:30 p.m.
Game 1
Real Salt Lake vs. Iwaki FC
8:15 p.m.
Game 2
Vancouver Whitecaps FC vs. V-Varen Nagasaki
SUNDAY,FEB.10,2019
2:30 p.m
Game 1
Third Place Match
5:15 p.m.
Game 2
Championship Match
About the Hawai'i Tourism Authority
The Hawai'i Tourism Authority is the State of Hawai'i agency responsible for strategically managing its support of the tourism industry. Established in 1998 to support Hawai'i's leading industry and largest employer, HTA continually strives to help ensure tourism's sustainability and the benefits it brings to residents and communities statewide.
For more information about HTA, please visit www.hawaiitourismauthority.org. Follow updates about HTA on Facebook, Twitter (@HawaiiHTA) and its YouTube Channel.
About Pacific Rim Cup
Pacific Rim Cup 2018, Powered by Under Armour, brought professional soccer back to Honolulu for the first time in six years. The inaugural tournament consisted of two double-headers at Ahola Stadium featuring Vancouver Whitecaps FC and Columbus Crew SC from MLS, Hokkaido Consadole Sapporo from the J.League and Iwaki FC from TOHOKU Member of Society Soccer League, with Hokkaido Consadole Sapporo taking home the PRC championship title.
In PRC 2019, Vancouver Whitecaps FC and Iwaki FC return and are joined by MLS side Real Salt Lake and V-Varen Nagasaki from J.League, with matches set for Feb. 8 and 10 again at Aloha Stadium.
For more information, visit www.pacificrimcup.com, Facebook, Instagram or Twitter.
About Blue United Corp.
Blue skies and blue seas have no borders. Blue United strives to combine Japanese spirit and Western learning while utilizing the "B.L.U.E. Concept" to unify the sport of soccer globally. Our vision is to contribute to Japanese sports business development and globalization to make it one of the top industries in the world. Founded in 2015, the firm is headquartered in New York and maintains offices in Tokyo and Matsumoto.
For further corporate information please visit www.blueutd.com.