PACIFIC RIM CUP 2019 UNVEILS OFFICIAL UNDER ARMOUR MATCHBALL: DESAFIO LANAKILA
February 3, 2019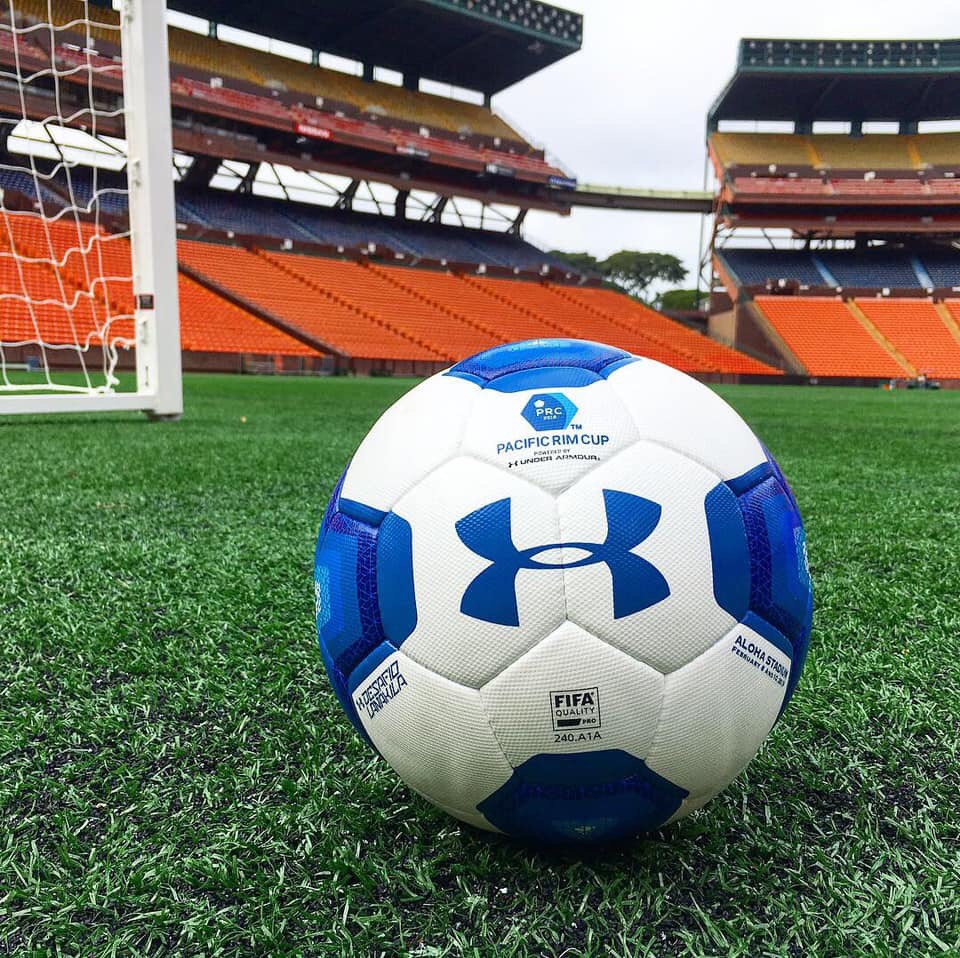 HONOLULU – Pacific Rim Cup 2019 today unveiled the Official Under Armour Match Ball that will be used during the second edition of the tournament featuring teams from Major League Soccer and Japan's J-League taking place Feb. 8-10 at Aloha Stadium in Honolulu, Hawaii.
The FIFA-approved match ball is named DESAFIO LANAKILA, with a goal of connecting and spreading the Hawaiian culture around the world. Desafio is the Portuguese word for 'challenge,' and Lanikila is a Hawaiian word for 'victory or triumph.'
The multi-paneled ball is colored blue to reflect the hues of the Pacific Rim Cup, and features the Pacific Rim Cup 2019 logo, as well as imprinted dates of the matches (Feb. 8-10) and Aloha Stadium.
This ball will be used during the tournament and practices by the participating teams – Vancouver Whitecaps, V-Varen Nagasaki, Iwaki FC, and Real Salt Lake, as well as the local Hawaii All-Star team from the MISO league and Fukushima Hamadori Selection U18.
PACIFIC RIM CUP 2019 SCHEDULE
FRIDAY,FEB.8,2019
5:30 p.m.
Game 1
Real Salt Lake vs. Iwaki FC
8:15 p.m.
Game 2
Vancouver Whitecaps FC vs. V-Varen Nagasaki
SUNDAY,FEB.10,2019
2:30 p.m
Game 1
Third Place Match
5:15 p.m.
Game 2
Championship Match
About Pacific Rim Cup
Pacific Rim Cup 2018, Powered by Under Armour, brought professional soccer back to Honolulu for the first time in six years. The inaugural tournament consisted of two double-headers at Ahola Stadium featuring Vancouver Whitecaps FC and Columbus Crew SC from MLS, Hokkaido Consadole Sapporo from the J.League and Iwaki FC from TOHOKU Member of Society Soccer League, with Hokkaido Consadole Sapporo taking home the PRC championship title.
In PRC 2019, Vancouver Whitecaps FC and Iwaki FC return and are joined by MLS side Real Salt Lake and V-Varen Nagasaki from J.League, with matches set for Feb. 8 and 10 again at Aloha Stadium.
For more information, visit www.pacificrimcup.com, Facebook, Instagram or Twitter.
About Blue United Corp.
Blue skies and blue seas have no borders. Blue United strives to combine Japanese spirit and Western learning while utilizing the "B.L.U.E. Concept" to unify the sport of soccer globally. Our vision is to contribute to Japanese sports business development and globalization to make it one of the top industries in the world. Founded in 2015, the firm is headquartered in New York and maintains offices in Tokyo and Matsumoto.
For further corporate information please visit www.blueutd.com.