PACIFIC RIM CUP 2019 TO STIMULATE HAWAII ECONOMY WITH $1.7 MILLION IN PROJECTED INVESTMENTS
January 31, 2019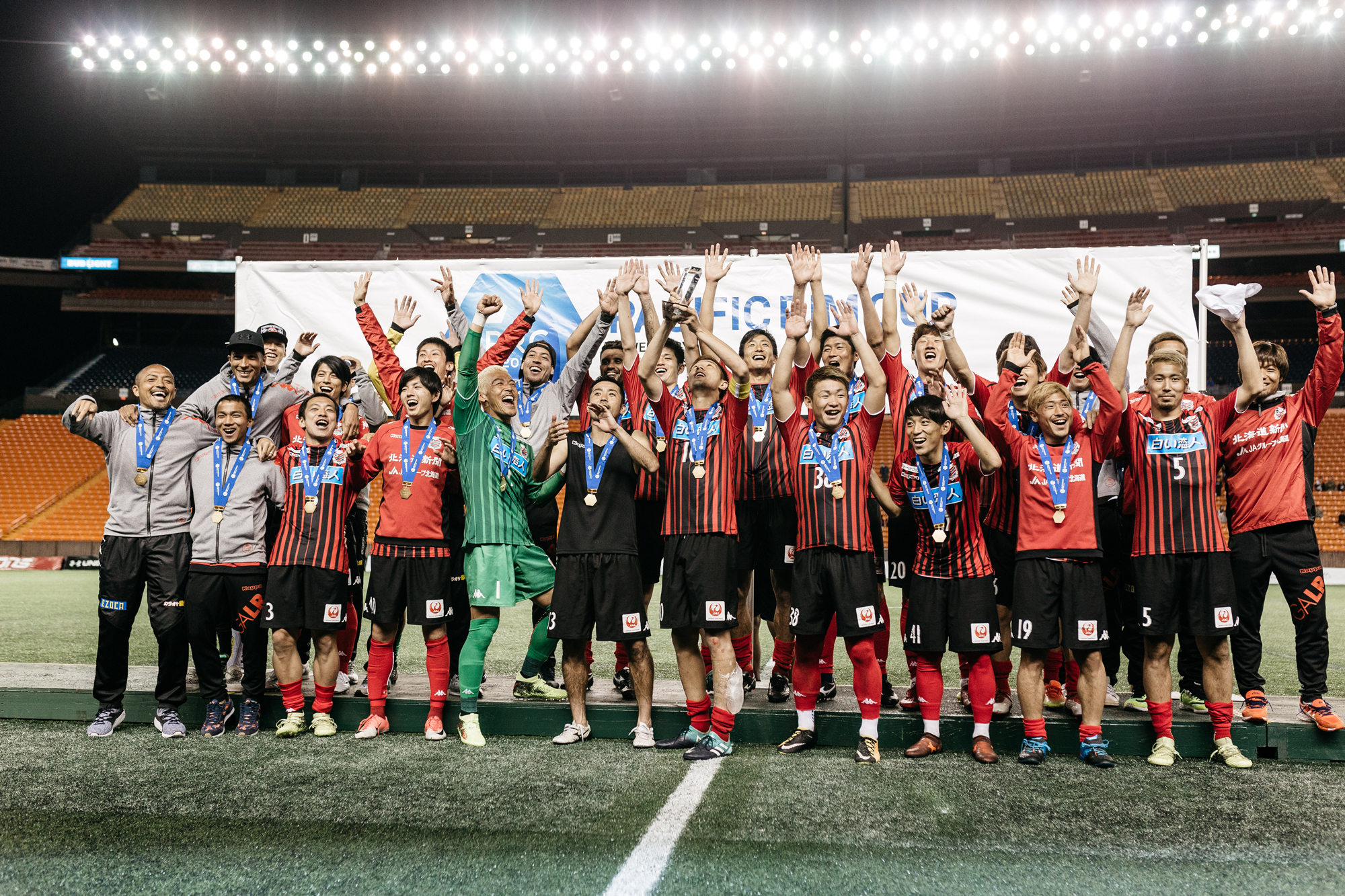 World-Class Professional Soccer Tournament Returns to Islands and Supports Local Economy through Local Business Sales, Job Creation, and Investment in Training Fields
HONOLULU – Nearly 12,000 people attended the inaugural Pacific Rim Cup last year when tournament organizers brought professional soccer back to the Islands for the first time in six years. The two-day tournament generated an estimated $1.5 million in revenue for the state's economy through local business sales, job creation, and other investments. This year as organizers are preparing for a bigger tournament, an estimated increased $1.7 million in revenue is projected to stimulate the local economy.
"It is very important for us to support Hawaii as our host because without Hawaii, there is no Pacific Rim Cup," said Takehiko Nakamura, Tournament Organizer and President of Blue United Corporation. "Aside from generating revenue for the state, we strive to support our communities by offering events such as the Keiki Soccer Clinic and Hawaii All-Star Game, both of which provide opprotunities to our keiki."
The inaugural Hawaii All-Star Game featuring youth teams from Hawaii and Fukushima adds to the bigger tournament this year. Fukushima U-18 is the third team from Japan, along with V-Varen Nagasaki and Iwaki FC, both going head-to-head with other pro teams Vancouver Whitecaps FC and Real Salt Lake at this year's games. Plans for increased attendance and ticket sales when the tournament returns next month also adds to the 2019 projections.
A portion of ticket sales from Pacific Rim Cup also goes towards investments and improvements in grass fields at various campuses and parks for sports training. This year, tournament organizers have doubled their investment in local fields.
"Monies generated through Pacific Rim Cup is for Hawaii and stays in Hawaii," said Nakamura. "It is important for us to support the local businesses and partners because they all attribute to the success of the tournament, making it a sustainable annual world-class sporting event."
Tickets are on sale now for Pacific Rim Cup 2019 and can be purchased online through www.pacificrimcup.com, at www.Ticketmaster.com, at the Aloha Stadium Box Office or by calling Ticketmaster at 1-800-745-3000. Tickets are $20 per matchday, with Youth (Ages 12 and under), Military and Seniors (Ages 60 and over) tickets available for $15 per day. A special limited time ticket offer for both days combined is available for $30. 
PACIFIC RIM CUP 2019 SCHEDULE
FRIDAY,FEB.8,2019
5:30 p.m.
Game 1
Real Salt Lake vs. Iwaki FC
8:15 p.m.
Game 2
Vancouver Whitecaps FC vs. V-Varen Nagasaki
SUNDAY,FEB.10,2019
2:30 p.m
Game 1
Third Place Match
5:15 p.m.
Game 2
Championship Match
About Pacific Rim Cup
Pacific Rim Cup 2018, Powered by Under Armour, brought professional soccer back to Honolulu for the first time in six years. The inaugural tournament consisted of two double-headers at Ahola Stadium featuring Vancouver Whitecaps FC and Columbus Crew SC from MLS, Hokkaido Consadole Sapporo from the J.League and Iwaki FC from TOHOKU Member of Society Soccer League, with Hokkaido Consadole Sapporo taking home the PRC championship title.
In PRC 2019, Vancouver Whitecaps FC and Iwaki FC return and are joined by MLS side Real Salt Lake and V-Varen Nagasaki from J.League, with matches set for Feb. 8 and 10 again at Aloha Stadium.
For more information, visit www.pacificrimcup.com, Facebook, Instagram or Twitter.
About Blue United Corp.
Blue skies and blue seas have no borders. Blue United strives to combine Japanese spirit and Western learning while utilizing the "B.L.U.E. Concept" to unify the sport of soccer globally. Our vision is to contribute to Japanese sports business development and globalization to make it one of the top industries in the world. Founded in 2015, the firm is headquartered in New York and maintains offices in Tokyo and Matsumoto.
For further corporate information please visit www.blueutd.com.