TICKETS NOW ON SALE FOR PACIFIC RIM CUP 2019
December 3, 2018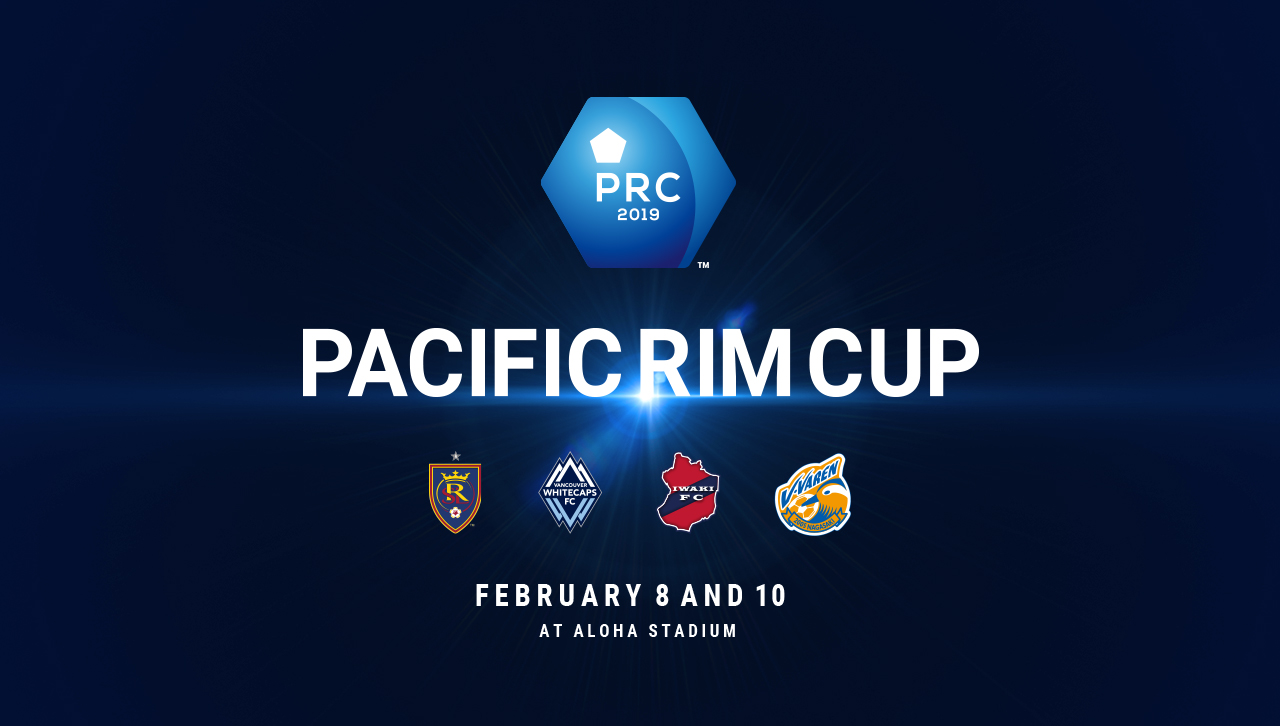 HONOLULU – Tickets are now on sale for Pacific Rim Cup 2019, featuring two new professional teams and two returning to vie for the championship title in Hawaii next year. Real Salt Lake from MLS (Major League Soccer) and V-Varen Nagasaki from J.League will be traveling to the Hawaiian Islands for the first time to clash with returning teams Vancouver Whitecaps FC (MLS) and Iwaki FC from TOHOKU Member of Society Soccer League. All four teams will go head-to-head in a two-day, four-match tournament on Feb. 8 and 10 at Aloha Stadium.
PACIFIC RIM CUP 2019 SCHEDULE
FRIDAY,FEB.8,2019
5:30 p.m.
Game 1
Real Salt Lake vs. Iwaki FC
8:15 p.m.
Game 2
Vancouver Whitecaps FC vs. V-Varen Nagasaki
SUNDAY,FEB.10,2019
2:30 p.m
Game 1
Third Place Match
5:15 p.m.
Game 2
Championship Match
All tickets are general admission for each matchday and can be purchased online through
pacificrimcup.com
, at
Ticketmaster.com
, at the Aloha Stadium Box Office or by calling Ticketmaster at 1-800-745-3000. Tickets are $20 per matchday, with Youth (Ages 12 and under), Military and Seniors (Ages 60 and over) tickets available for $15 per day. A Special limited time ticket offer for both days combined is available for $30. The Pacific Rim Cup 2018 Powered by Under Armour made its debut in Honolulu in February 2018, marking the first time in six years that the Japan Professional Football League (J.League) and Major League Soccer (MLS) competed in the islands. The four participating teams were Vancouver Whitecaps FC and Columbus Crew SC from MLS, Hokkaido Consadole Sapporo from the J.League and Iwaki FC from TOHOKU Member of Society Soccer League. Hokkaido Consadole Sapporo took home the championship title. For more information about Pacific Rim Cup, visit,
Facebook
,
Instagram
or
Twitter
.
About Vancouver Whitecaps FC (Major League Soccer)
Originally established in 1974, Vancouver Whitecaps FC are among the oldest and most decorated soccer clubs in Canada. At the core of the club is a commitment to the community through a variety of programs and initiatives that positively impact the lives of youth and encourage a fit and healthy lifestyle through soccer. Whitecaps FC are fully integrated across the country, housing one of the most unique soccer development programs in North America from grassroots programs to professional development. Since 2011, the club has played in Major League Soccer, the top tier of professional soccer in the United States and Canada. For more information, visit
https://www.whitecapsfc.com/
About Real Salt Lake (Major League Soccer)
In July of 2004 the dream of bringing world-class soccer to the Beehive State came to fruition, as Major League Soccer's 12th franchise – later known as Real Salt Lake – was born. Since its inception, RSL has steadily grown to become a perennial contender for domestic and international trophies, with on-field accolades including wining the squad's first MLS Cup title in 2009, the first championship for a Utah-based professional team in nearly 40 years; qualifying for the MLS Cup Playoffs in nine of the club's 14 seasons; and a groundbreaking run to the Finals of the 2010/11 CONCACAF Champions League, North America's club championship tournament. RSL continues to impress off the field under owner Dell Loy Hansen, regularly filling the club's 20,000-seat home of Rio Tinto Stadium in Sandy, and expanding into the inclusion of Real Monarchs SLC in the USL and Utah Royals FC in the National Women's Soccer League. For more information, visit
https://www.rsl.com/
About V-Varen Nagasaki (J.League)
Established in 2005 and started to participate in J. League in 2013. V-Varen Nagasaki got promoted to the J1 League from this season. "V", a part of the club name, means 4 words, "VITORIA", "VREDE", "VAREN" "VARIEDADE" in Portuguese and Dutch which is connected with their hometown, Nagasaki. The club aims to challenge the world through sports like a sailor who started on a voyage from Nagasaki to the world ocean. On April 25th, 2017, Akira Takata, the founder of Japanet Takata Co.,Ltd, Japanese television shopping giant became CEO of the club and the club became the group company of Japanet Holdings. For more information, visit
https://www.v-varen.com/
About Iwaki FC (TOHOKU Member of Society Soccer League)
Iwaki FC is a soccer club based in Iwaki, a city of Fukushima Prefecture in Japan. They play in the Tohoku Member of Society Soccer League. Iwaki FC was founded in 2015, and the name of Iwaki FC got more attention when Under Armour decided to join the club and support it to climb the Japanese football pyramid. There's a big vision behind the club, with the will of "making Iwaki the central football-city in Tohoku". In fact, a new training field opened in November 2016 and the club-house was just launched in May 2017: two central structures to rise to the top of Japanese football. Iwaki FC also debuted at the Emperor's Cup in 2017. After defeating Norbritz Hokkaido in the first round, they surprisingly overcame Hokkaido Consadole Sapporo after extra-time. For more information, visit
http://iwakifc.com/
About Blue United Corp.
Blue skies and blue seas have no borders. Blue United strives to combine Japanese spirit and Western learning while utilizing the "B.L.U.E. Concept" to unify the sport of soccer globally. Our vision is to contribute to Japanese sports business development and globalization to make it one of the top industries in the world. Founded in 2015, the firm is headquartered in New York and maintains offices in Tokyo and Matsumoto. For further corporate information please visit
www.blueutd.com.