PACIFIC RIM CUP 2019 ANNOUNCES PARTNERSHIP WITH OUTRIGGER HOTELS AND RESORTS
December 13, 2018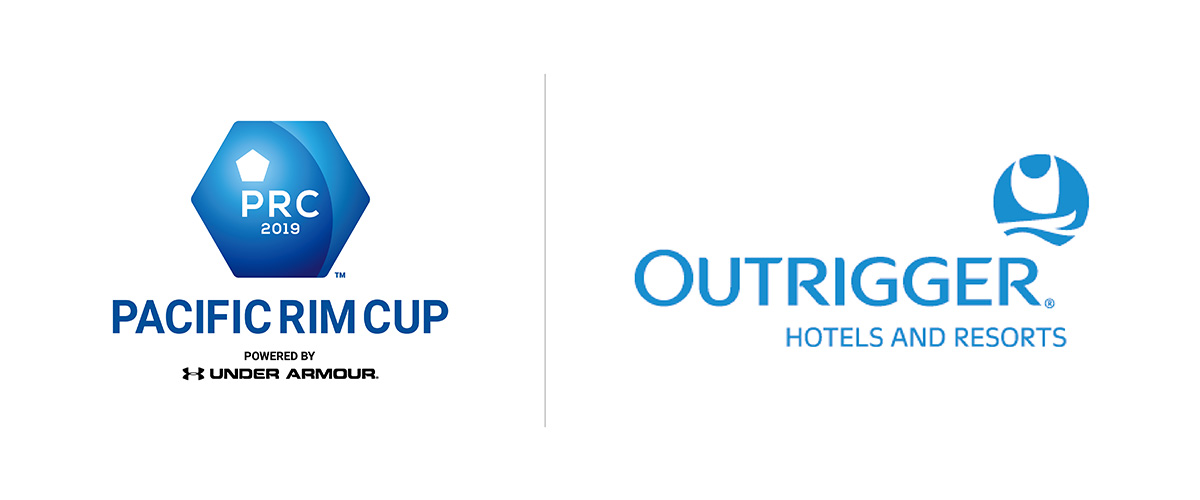 HONOLULU – Pacific Rim Cup 2019 is proud to announce an exclusive partnership with Outrigger Hotels and Resorts, as the tournament's Official Hospitality Partner. Through the partnership, Outrigger Hotels and Resorts shares the same vision as Pacific Rim Cup to bring the community together to promote Hawaii as a leading destination for professional soccer and sports tourism, and to also support the healthy and fun lifestyle that the tournament represents. The two-day Pacific Rim Cup is set for Feb. 8 and 10 at Aloha Stadium. "Outrigger is proud to be the official hospitality partner of the Pacific Rim Cup and provide premier accommodations with aloha to the players alongside their friends, family and fans staying in Waikiki for this world-class event," said Sean Dee, executive vice president and chief marketing officer. Pacific Rim Cup attendees can also enjoy discounted room rates at Outrigger Hotels and Resorts' properties on Oahu, based on availability. Attendees can use SPORTS as the promotion code when making reservations online at
www.outrigger.com
by February 2019.
PACIFIC RIM CUP 2019 SCHEDULE
FRIDAY,FEB.8,2019
5:30 p.m.
Game 1
Real Salt Lake vs. Iwaki FC
8:15 p.m.
Game 2
Vancouver Whitecaps FC vs. V-Varen Nagasaki
SUNDAY,FEB.10,2019
2:30 p.m
Game 1
Third Place Match
5:15 p.m.
Game 2
Championship Match
Tickets are on sale now for Pacific Rim Cup 2019 and can be purchased online through
pacificrimcup.com
, at
Ticketmaster.com
, at the Aloha Stadium Box Office or by calling Ticketmaster at 1-800-745-3000. Tickets are $20 per matchday, with Youth (Ages 12 and under), Military and Seniors (Ages 60 and over) tickets available for $15 per day. A Special limited time ticket offer for both days combined is available for $30.
About Outrigger Hotels and Resorts
For more than 70 years, Outrigger Hotels and Resorts has charted a journey of discovery – expanding from Hawaii to premier resort destinations in Fiji, Thailand, Guam, Mauritius and the Maldives. The privately held hospitality company currently operates and/or has in development 38 properties and over 7,000 rooms – inviting guests to 'Escape Ordinary' with authentic Signature Experiences and the
Outrigger DISCOVERY loyalty program
. Outrigger's multi-branded portfolio includes Outrigger® Resorts, OHANA Hotels by Outrigger® and Hawaii Vacation Condos by Outrigger® while also managing select properties from top international hotel brands including Embassy Suites®, Best Western®, Wyndham Destinations and Hilton Grand VacationsTM. Founded in 1947, and the company's current President & CEO is Jeff Wagoner. Find out more at
Outrigger.com
or visit @OutriggerResorts on
Facebook
,
Instagram
and
Twitter
.
About Pacific Rim Cup
After a successful inaugural year with thousands of people in attendance, the Pacific Rim Cup is bringing professional soccer back to Honolulu in 2019. World-class soccer leagues from different countries will go head to head for the championship title during four matches to be held on Feb. 8 and 10 at Aloha Stadium. The Pacific Rim Cup 2018 Powered by Under Armour made its debut in Honolulu in February 2018, marking the first time in six years that the Japan Professional Football League (J.League) and Major League Soccer (MLS) competed in the islands. The four participating teams were Vancouver Whitecaps FC and Columbus Crew SC from MLS, Hokkaido Consadole Sapporo from the J.League and Iwaki FC from TOHOKU Member of Society Soccer League. Hokkaido Consadole Sapporo took home the championship title. In PRC 2019, two new professional teams and two returning to vie for the championship title in Hawaii next year. The four participating teams are Vancouver Whitecaps FC and Real Salt Lake from MLS, V-Varen Nagasaki from J.League and Iwaki FC from TOHOKU Member of Society Soccer League. For more information about Pacific Rim Cup, visit
www.pacificrimcup.com
,
Facebook
,
Instagram
or
Twitter
.
About Blue United Corp.
Blue skies and blue seas have no borders. Blue United strives to combine Japanese spirit and Western learning while utilizing the "B.L.U.E. Concept" to unify the sport of soccer globally. Our vision is to contribute to Japanese sports business development and globalization to make it one of the top industries in the world. Founded in 2015, the firm is headquartered in New York and maintains offices in Tokyo and Matsumoto. For further corporate information please visit
www.blueutd.com