ALL-STAR GAME FEATURING YOUNG PLAYERS FROM HAWAII AND JAPAN
January 18, 2019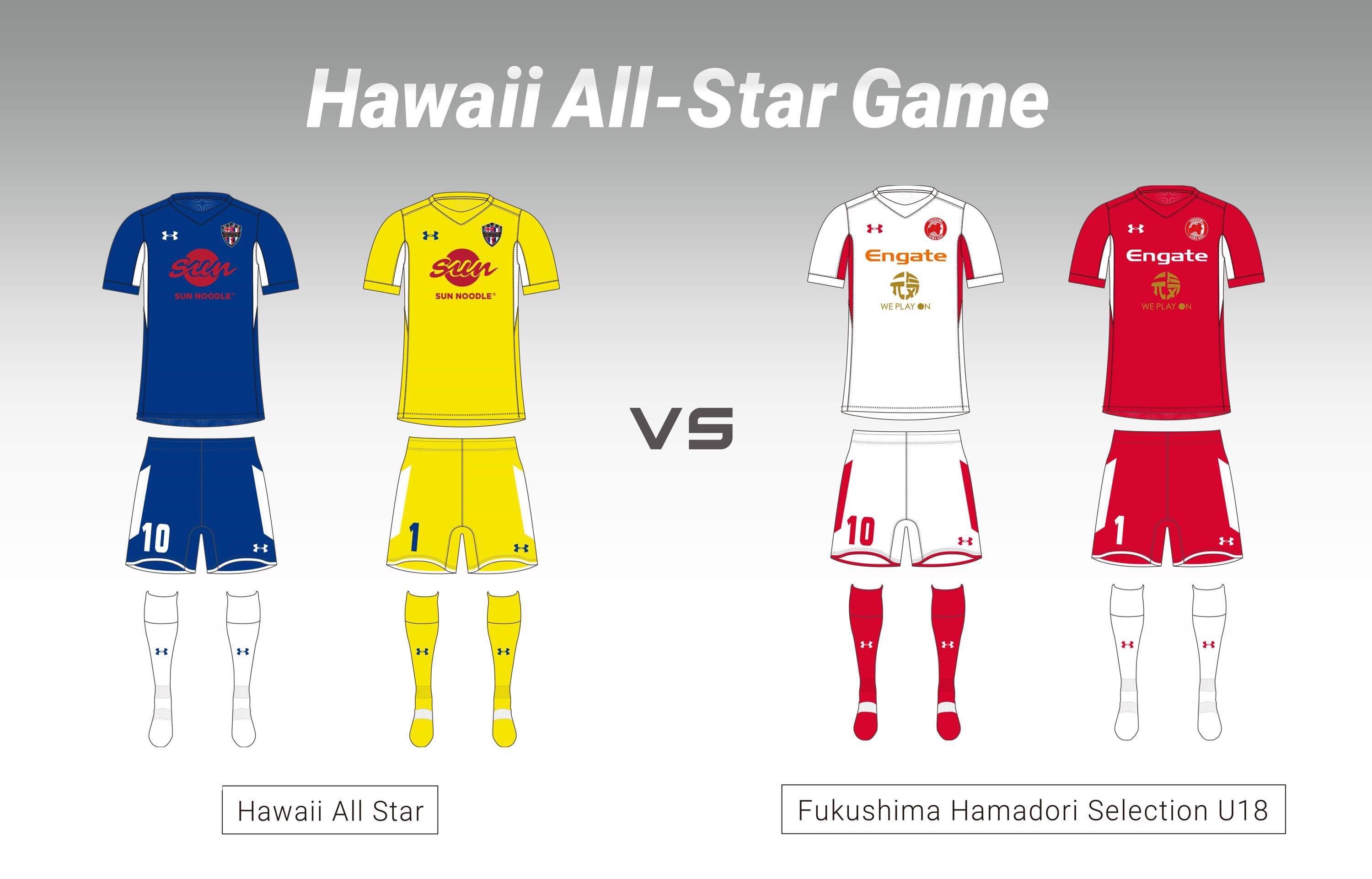 Inaugural Hawaii All-Star Game Set for Feb. 10 at 11 a.m. at Aloha Stadium
HONOLULU – Pacific Rim Cup 2019 Powered by Under Armour today announced the roster for the inaugural Hawaii All-Star Game, a new component for the two-day tournament featuring young players from Oahu's Major Island Soccer Organization (MISO) taking on a U-18 selection from Fukushima, Japan.
"Pacific Rim Cup is proud to provide an opportunity for these young gentlemen from Hawaii and Japan to play during the tournament," said Takehiko Nakamura, President of Blue United Corporation and Tournament Organizer. "The Hawaii All-Star Game helps us continue to fulfill our commitment of providing soccer youth, especially in Hawaii and Japan, with opportunities to advance their skills and move them forward into the future."
The Hawaii All-Star Team features island youth hand-selected by MISO President Sergio Bolioli, Hawaii Rush Technical Director Arian Hoxha and Honolulu Bulls Director of Coaching Mael Lefebvre.
HAWAII ALL-STAR TEAM:
GOALKEEPERS (2): Nicholas Shore (USA), Paul Gaytan (USA)
DEFENDERS (6): Javi Risco Garcia (ESP), Diesel Kavelo (USA), Johny Dodge (USA), Cypress Navarro (USA), Yuki Enomoto (USA), Ole Martin Naess (NOR)
MIDFIELDERS (6): Freddy Merrels (JPN), Mario Garcia Velez (ESP), Dane Nitta (USA), Jvon Cunningham (USA), Dayton Sato (USA), Andrew Chen (USA)
FORWARDS (4): Skyler Goo (USA), Tommy Mascarro (USA), Shane Fuller (USA), Aidan Spagnioli (USA)
The Hawaii team will wear jerseys with sponsor logo from Sun Noodle.
"As a proud Hawaii company, Sun Noodle is dedicated to giving back to the community as they have supported and shared their aloha since its humble beginnings in 1981," said Hidehito Uki, President and Founder of Sun Noodle. "The Blue United is a dynamic organization with a vision that is aligned with Sun Noodle, which is to bring opportunities to inspire and encourage Hawaii's youth community to dream big and persevere."
The Iwaki Soccer Association and Iwaki FC management team chose the Fukushima Hamadori Selection U18 from the top high school and club players in the Iwaki City/Fukushima, where Iwaki FC is based.
FUKUSHIMA HAMADORI SELECTION U18:
GOALKEEPERS (1): Naoki Midorikami
DEFENDERS (2): Daito Morita, Masato Hayashi
MIDFIELDERS (8): Ryoi Okazaki, Shoi Okazaki, Taiki Sato, Tsubasa Suzuki, Hiroto Ando, Masato Watanabe, Takeru Kowata, Tatsuya Osugi
FORWARDS (4): Takaki Kumagai, Shunsuke Oguchi, Shunto Yabe, Hisanobu Murakami
The Japan team will wear a jersey in honor of its hometown. Iwaki City is just one of more than 10 cities located in the Fukushima Prefecture of Japan that was devastated by the 2011 Tohoku earthquake and tsunami. Similar to Iwaki FC's jersey, it includes a logo with message in Japanese that translates to "We Play On," in memory of the victims who suffered from the 2011 tragedy. Additionally, the special jersey also features the Engate logo as a sponsor.
"Through this partnership, we are really proud of supporting for the youth players from Fukushima to have a dream and challenge to play at the international match in Hawaii," said Engate CEO Koichiro "Kidox" Kido. "At Engate, we provide services that enable fans to support the teams and players from anywhere in the world using the power of technology."
The All-Star game will be played at 11 a.m. on Feb. 10 at Aloha Stadium and admittance is free. Fans staying for the Pacific Rim Cup Third Place and Championship matches following the All-Star game will require a ticket.
Tickets are on sale now for Pacific Rim Cup 2019 on Feb. 8 and 10 and can be purchased online through www.pacificrimcup.com, at www.Ticketmaster.com, at the Aloha Stadium Box Office or by calling Ticketmaster at 1-800-745-3000. Tickets are $20 per matchday, with Youth (Ages 12 and under), Military and Seniors (Ages 60 and over) tickets available for $15 per day. A special limited time ticket offer for both days combined is available for $30.
PACIFIC RIM CUP 2019 SCHEDULE
FRIDAY,FEB.8,2019
5:30 p.m.
Game 1
Real Salt Lake vs. Iwaki FC
8:15 p.m.
Game 2
Vancouver Whitecaps FC vs. V-Varen Nagasaki
SUNDAY,FEB.10,2019
2:30 p.m
Game 1
Third Place Match
5:15 p.m.
Game 2
Championship Match
About Sun Noodle
Sun Noodle is the leading manufacturer of freshly made ramen and Asian noodle products in the United States. Renowned for its artisanal approach, Sun Noodle serves ramen-yas, restaurants, in-flight meal caterers, hotels and supermarkets with tailor-made ramen noodles, pre-cooked yakisoba, udon, Okinawa soba, saimin, Japanese soba, Wakana soba, gyoza skin and wonton skin, and offers more than 100 retail products at grocery stores and Asian markets across the U.S. Founded in 1981 by Hidehito Uki, the company's current CEO, Sun Noodle operates factories in Honolulu, Hawaii; Los Angeles, California; and Carlstadt, New Jersey. For more information, visit www.sunnoodle.com.
About Engate
Established in February 2018 as a start-up company, Engate connects people and their dreams through the power of technology. It provides services that utilize edgy technology like Blockchain, and among other activities, develops software, and provides consulting for ICT implementation. Engate aims to bring new experiences to market. For more information, visit https://engate.co.jp/en/.
About Pacific Rim Cup
Pacific Rim Cup 2018, Powered by Under Armour, brought professional soccer back to Honolulu for the first time in six years. The inaugural tournament consisted of two double-headers at Ahola Stadium featuring Vancouver Whitecaps FC and Columbus Crew SC from MLS, Hokkaido Consadole Sapporo from the J.League and Iwaki FC from TOHOKU Member of Society Soccer League, with Hokkaido Consadole Sapporo taking home the PRC championship title.
In PRC 2019, Vancouver Whitecaps FC and Iwaki FC return and are joined by MLS side Real Salt Lake and V-Varen Nagasaki from J.League, with matches set for Feb. 8 and 10 again at Aloha Stadium.
For more information, visit www.pacificrimcup.com, Facebook, Instagram or Twitter.
About Blue United Corp.
Blue skies and blue seas have no borders. Blue United strives to combine Japanese spirit and Western learning while utilizing the "B.L.U.E. Concept" to unify the sport of soccer globally. Our vision is to contribute to Japanese sports business development and globalization to make it one of the top industries in the world. Founded in 2015, the firm is headquartered in New York and maintains offices in Tokyo and Matsumoto.
For further corporate information please visit www.blueutd.com.