PACIFIC RIM CUP 2019 TO HOST AN ALL-STAR GAME FEATURING HAWAII ALL-STAR VERSUS FUKUSHIMA HAMADORI SELECTION U18
December 26, 2018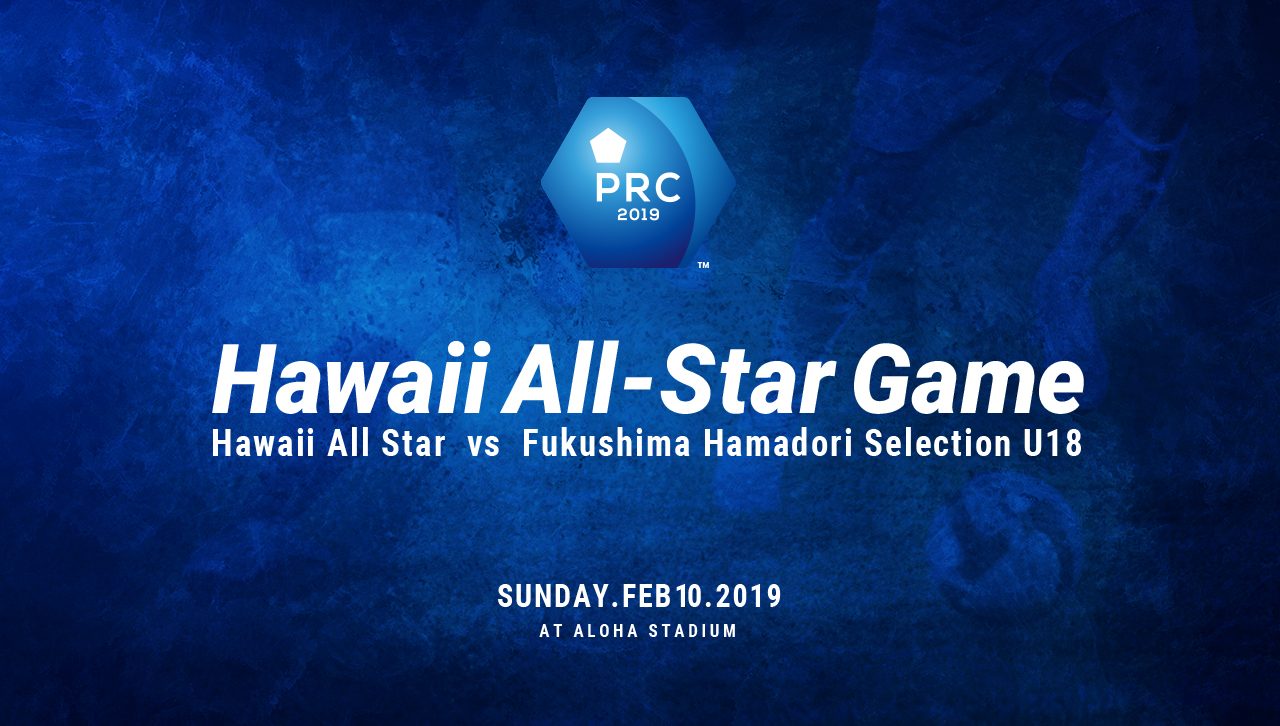 Players from Hawaii and Japan Go Head-to-Head on Feb. 10 at Aloha Stadium
HONOLULU – Pacific Rim Cup 2019 Powered by Under Armour announced today a new component for the two-day tournament with the introduction of the "Hawaii All-Star Game," featuring players from Oahu's Major Island Soccer Organization (MISO) taking on a U-18 selection from Fukushima, Japan. The All-Star game presented by Sun Noodle will be played at 11 a.m. on Feb. 10 at Aloha Stadium and admittance is free. Fans staying for the Pacific Rim Cup Third Place and Championship matches following the All-Star game will require a ticket.
"We are proud to host the Hawaii All-Star Game as part of Pacific Rim Cup 2019, adding a local element to our international tournament," said Takehiko Nakamura, President of Blue United Corporation, organizer of Pacific Rim Cup. "We value and appreciate the support of the soccer communities in Hawaii and in Fukushima, and this game provides an opportunity for players from both areas to take part in this competition while representing the respective islands."
In partnership with MISO, the Hawaii All-Star team will be selected by MISO President Sergio Bolioli, Hawaii Rush Technical Director Arian Hoxha and Honolulu Bulls Director of Coaching Mael Lefebvre. The Iwaki Soccer Association and Iwaki FC management team will choose the Fukushima Hamadori Selection U18 from the top high school and club players in the Iwaki City/Fukushima, where Iwaki FC is based.
The rosters for both selections will be announced in January, along with the unveiling of the Under Armour jerseys, which will feature the logo for Sun Noodle, official partner of Pacific Rim Cup 2019.
The two-day Pacific Rim Cup is set for Feb. 8 and 10 at Aloha Stadium. Tickets can be purchased through pacificrimcup.com, at Ticketmaster.com, at the Aloha Stadium Box Office or by calling Ticketmaster at 1-800-745-3000. Tickets are $20 per matchday, with Youth (Ages 12 and under), Military and Seniors (Ages 60 and over) tickets available for $15 per day. A special limited time ticket offer for both days combined is available for $30.
Friday, Feb 8:
Real Salt Lake vs Iwaki FC - 5:30 p.m.
Vancouver vs V-Varen - 8:15 p.m. 
Sunday, Feb 10:
Hawaii All-Star Game – 11 a.m.
PRC Third Place Match – 2:30 p.m. (Losing teams from Feb. 8)
PRC Championship Match – 5:15 p.m. (Winning teams from Feb. 8)
ADDITIONAL ALL-STAR GAME QUOTES:
Hawaii All-Star coach Arian Hoxha "It is honor to be the head coach of this selection. This exhibition match will be a great opportunity for these young players in Hawaii, and we hope they can use the experience and be inspired to pursue the professional route. Maybe in the future one of them can even be part of the PRC. I would like to personally thank the sponsors, local helpers and organizers for this wonderful opportunity. We will do our best to play entertaining football and enjoy the match! Mahalo."
Fukushima Hamadori Selection U18 Head Coach Shota Arakawa "It is an honor to participate in the special match at Pacific Rim Cup 2019. We appreciate this valuable opportunity, and we, Fukushima Hamadori Selection U18 will do our best to honor our hometown of Hamadori, Fukushima. We are growing and moving forward through our play at this game, and we hope our players will have a great experience to grow through this opportunity."
About Pacific Rim Cup
Pacific Rim Cup 2018, Powered by Under Armour, brought professional soccer back to Honolulu for the first time in six years. The inaugural tournament consisted of two double-headers at Ahola Stadium featuring Vancouver Whitecaps FC and Columbus Crew SC from MLS, Hokkaido Consadole Sapporo from the J.League and Iwaki FC from TOHOKU Member of Society Soccer League, with Hokkaido Consadole Sapporo taking home the PRC championship title. In PRC 2019, Vancouver Whitecaps FC and Iwaki FC return and are joined by MLS side Real Salt Lake and V-Varen Nagasaki from J.League, with matches set for Feb. 8 and 10 again at Aloha Stadium.
For more information, visit www.pacificrimcup.com, Facebook, Instagram or Twitter.
About Blue United Corp.
Blue skies and blue seas have no borders. Blue United strives to combine Japanese spirit and Western learning while utilizing the "B.L.U.E. Concept" to unify the sport of soccer globally. Our vision is to contribute to Japanese sports business development and globalization to make it one of the top industries in the world. Founded in 2015, the firm is headquartered in New York and maintains offices in Tokyo and Matsumoto. For further corporate information please visit www.blueutd.com.